What an honor and pleasure it was to talk with my friends Claude-Michel Schönberg and Alain Boublil during their February 22-24 artistic residency at the University of Virginia!  The highlight for me was the chance to sit with them on UVA's Old Cabell Hall stage and invite them to talk.  Our conversation ranged from their early experiences with music—to their adventures with creating such groundbreaking, award-winning musicals as Les Misérables, Miss Saigon and even their less well known La Révolution Française–to their belief in immigrants and young artists—and beyond.
During their three-day stay, they generously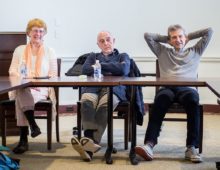 shared their experiences, wisdom and humor with hundreds of students, faculty and Charlottesville community members. They worked over lunches and visited Drama and Music courses, where they indefatigably answered questions. Here they talk with Marva's Les Misérables Today University Se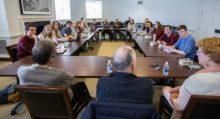 minar students.  (All photos by Coe Sweet.)
They attended rehearsals and coached young singers, such as the Musical Theatre Performance students who sang "Do You Hear the People Sing?" for them.  Claude-Michel and Alain also worked with the University Singers and guest artists on songs from several of their musicals.
Then the U Singers, led by musical director Michael Slon, performed for an appreciative crowd at the February 23 "Evening with Claude-Michel Schönberg and Alain Boublil."
The audience was thrilled when Claude-Michel jumped up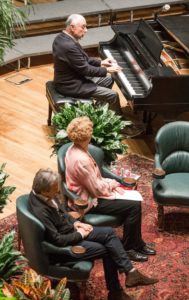 to sing the beginning of his 1974 #1 hit song "Le Premier Pas"!  (You can see Claude-Michel in original performance on YouTube.)
For the public, too, Alain and Claude-Michel introduced an exclusive screening of the recent London stage production, "Miss Saigon: The 25th Anniversary Performance courtesy of Universal Pictures, UPHE Content Group." The screening includes a special finale, with the 25th-anniversary cast joined on stage by original cast members Jonathan Pryce, Lea Salonga and Simon Bowman.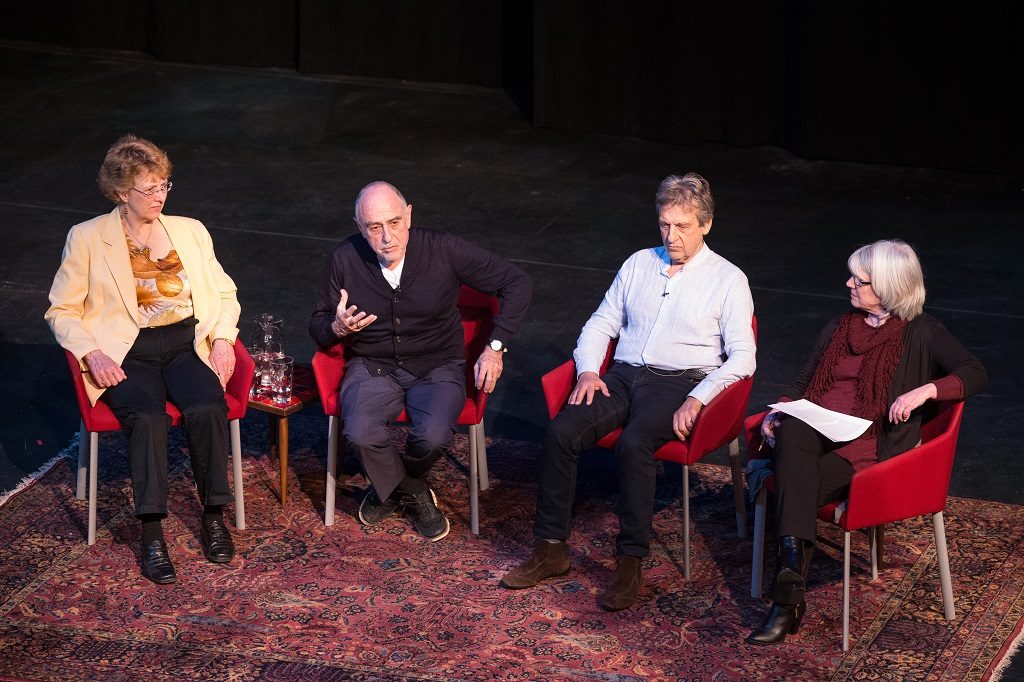 And they engaged in a conversation and Q&A moderated by Drama Chair Colleen Kelly on Friday, February 24.
Alain Boublil and Claude-Michel Schönberg's artistic residency was funded by the Arts Endowment, a permanent fund established in 2014 to expand, improve and promote excellence in the arts at the University, and was co-sponsored by the Office of the Provost, the Vice Provost for the Arts, the Department of Drama and the Department of Music.  I am very grateful to our guests and to everyone who helped make the events so successful!
Stories about the artistic residency include these post event:
CREATORS OF 'LES MISÉRABLES' INSPIRE AS ARTISTS-IN-RESIDENCE, UVAToday story by Lorenzo Perez
BWW Exclusive Interview: Alain Boublil and Claude-Michel Schönberg Discuss the Politics of Theatre and More!, by Andrew Burrill (UVA Drama '16)
Immigrants as Artists—What I Learned from the "Les Mis" Creators, my Huffington Post op-ed
And these pre-event:
AWARD-WINNING 'LES MISÉRABLES' CREATORS TO BE ARTISTS-IN-RESIDENCE AT UVA,  UVA Today story by Caroline Newman
Creators Behind "Les Misérables" Musical Coming to UVa, WUVA story by Aurora Calderone