What would it have been like to be the first to read Les Misérables in manuscript, straight from Victor Hugo's hands as he wrote it? I experienced that excitement vicariously with my talk for the Paris colloquium, "Juliette Drouet, épistolière." (Click here for the program.)
The only American invited to join nearly twenty French scholars who specialize on the work of Victor Hugo and his lifelong lover and friend, Juliette Drouet, I spoke about Juliette's joy in reading and copying Hugo's epic. Juliette took the lead in copying Victor's writings, and she wrote him multiple letters a day, over 22,000 in all. Since Victor had asked her to write about her activities, her health and her thoughts—and since Juliette was evidently a lively, humorous, no-holds-barred person—her letters are entertaining and enlightening. Plunging back into them reminded me, too, of my pleasure when I first met Juliette Drouet through discovering some of her letters in American libraries and co-editing with Gérard Pouchain Lettres inédites de Juliette Drouet à Victor Hugo.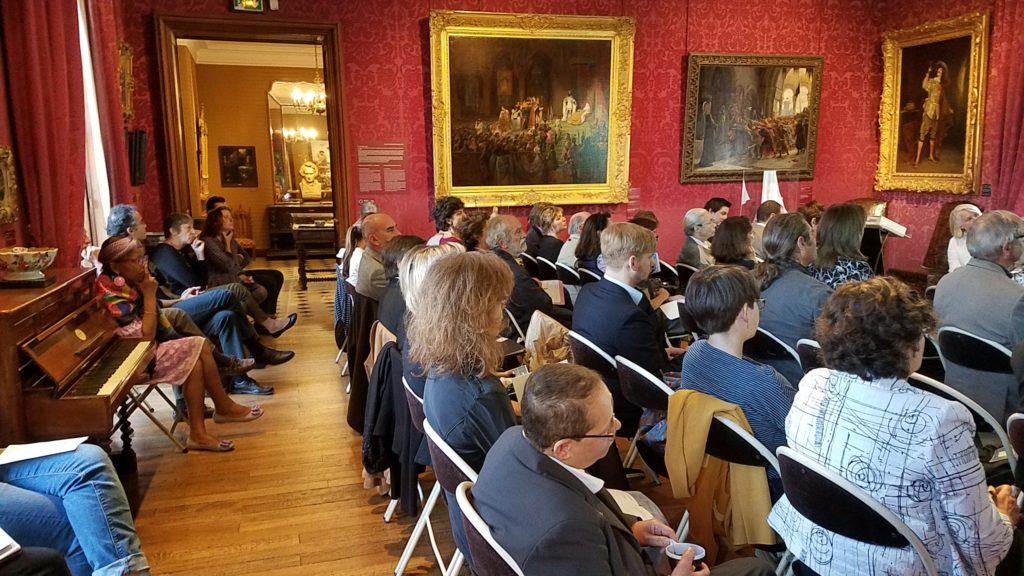 For my talk (and the forthcoming Actes publication), I found 130 letters in which Juliette wrote about Les Misérables, all the way from complaining that Victor was slow in giving her copying to do, to waxing philosophical about the human relationships in the novel, to analyzing technical details related to collating manuscripts for publication. Most intriguing for me were Juliette's interactions with the novel's characters and plot, finding fascinating how she interwove her love of Les Misérables with her love for Victor: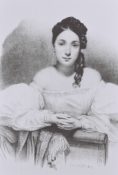 The very least I can hope for, my God, since I lack you—whom I cannot have—is to have the consolation of touching with my lips, my eyes, my thought and soul, the admirable things that you write. (Click here for Juliette's original.)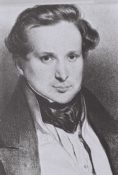 Juliette was particularly fond of Jean Tréjean, later renamed Jean Valjean. (Hugo first called his book Jean Tréjean, before entitling it Les Misères and finally settling on Les Misérables). In the first couple of years when Hugo was drafting the novel and Juliette was making a clean copy of his manuscript (1845-48), she often used her liking for Valjean to demand that Victor write more and give her more to copy. Here she is in December 1846, for example, demanding another chapter and connecting with Jean Tréjean:
Today I have just a few things to do, and I expect to do them this morning so that you will be forced to give me another chapter to copy. If I hadn't had this stupid pain, I would have finished long ago, and I would know the sad adventures of my poor Jean Tréjean. I'm dreadfully afraid that you will make him too unhappy. I realize that it's for the sake of all these poor pariahs that you are piling up so much distress and so much wretchedness on a pitiful being that God initially created as good and inoffensive. But that has the drawback of weighing down the heart and saddening the soul of all those who will read your work, if I'm to judge from what I feel. (Click here for Juliette's original.)
Juliette identified with many of Hugo's characters, including Bishop Myriel's sister (whose admiration for her brother was matched only by Juliette's for Victor) and Fantine, with whom Juliette had much in common. Both orphaned at a young age and as young women cast out into an unsympathetic world to make their own way, they were abused by men. One of Juliette's early lovers, the sculptor James Pradier, for whom she modeled, refused for many years to acknowledge their child, Claire. A later lover, Dr. Scipio Pinel, skipped town and left Juliette with his huge debts, thousands of francs for which she had co-signed. Victor Hugo, on the other hand, adopted Claire, paid Juliette's debts, and supported both Juliette and Claire throughout their lives.
In December 1847, Juliette wrote Victor that Fantine's story was "one of the most thrilling and most poignant things you have written." Later that day, she used Fantine's need to sell her two front teeth to make the case that she was feeling too much of a budgetary pinch:
My God, when will we be rich enough that we don't have to worry about every daily, necessary expense. I want that most for you, my poor galley slave, because I understand that you're at the end of your courage and strength. . . . My two front teeth aren't even a resource. No charlatan, whatever sort of dentist he might be, would want my stumpy teeth for anything. And as for my hair, there's not enough to make a tail for a sparrow in my garden. (Click here for Juliette's original.)
Juliette resisted for several years having anyone help her copy Hugo's massive novel, yielding only during the final stage of manuscript prep for publication. Time was short, and her eyes bothered her more and more.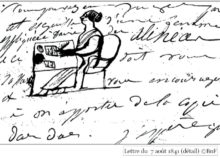 No one could have been more excited when the novel came out. Charmed by Juliette's enthusiasm and frank love for Victor, I smile each time I read her congratulatory letters about the book's publication, especially this one, which contains Juliette's emphatic capitalizations and one of her playfully innovative non-words—"BUMS," which spoken out loud would sound much like "BOOMS" (Juliette often used "BUM" to refer to the Castle Cornet sunrise cannon fire, between 6:00 and 7:00 a.m. [thanks to Florence Naugrette for this information]):
I'm impatient for MY COPY so that I can read it straight through and wallow in it. Without even mentioning the BOOMS! BOOMS! BOOMS! of the newspapers that will compete with each other to see which will thunder out the most beautiful salvo of admiration for this supreme book. I can see from here all their pens filled to the brim with all the most dazzling superlatives, and all the magazines loaded to the GULLET with enthusiasm and ecstasy. I, for one, have already been jubilant in advance about this book for a long time. What a book! What a book! What a book! I'm possessed by it from my feet to my head and from my head to my feet, and I don't want to be exorcised, that's how strong I am. The more I admire it the more I want to admire it, and too bad if that annoys you, nasty jealous man! (Click here for Juliette's original.)
Juliette was fond of calling Victor names, most often using her affectionate nickname "dear Toto" and loving expressions such as "my dear beloved love" and "my sublime adored one." But when she found him frustrating or annoying, he might be called "horrid, dishonest man" or "ferocious man." Juliette teased Victor, too—old miser" or "my dear little gossip"—and she connected Victor to Valjean by calling him her "poor galley slave" or "my old bishop."
Juliette died of stomach cancer in May 1883, two years before Victor, leaving him with only his two grandchildren as family. But she left us a rich trove of letters that give us a window into her mind and soul, portray her undying love for Victor Hugo and her admiration of his work, and tell us about daily life in nineteenth-century France.
If you read French, you can dip into Juliette's letters and appreciate her epistolary style thanks to the Juliette Drouet site, http://www.juliettedrouet.org. Sorbonne professor Florence Naugrette and her tireless team continue to add letters to this site, which contextualizes Juliette's work with a chronology, explains Juliette's neologisms in a glossary, identifies people she wrote about, gives links to relevant articles, and much more.